1970-1992
Not enough information was obtained on the years prior to 1993, but a brief summary, primarily taken from the Bishop McDevitt/Catholic High 75th Anniversary Book written in 1993, provides us with an early look at McDevitt football. If you have any information or pictures that could be added to this web site, please email me at McDfootball@hotmail.com

The 1971 edition of the Crusader football team provided a brief respite from a very bleak stretch of losing seasons with a mark of 7-3. Coached by Steve Kuhn, this team was led by Kevin Grady, who some hailed as the finest back in all of Pennyslvania and Pat Grab, dubbed McDevitt's greatest lineman.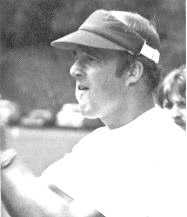 In 1976 Bruce Evans took over following a 5-5 year in 1975. McDevitt expanded their schedule to eleven games, and won seven of them. This winning effort produced the most successful season in the past five years. Led by their captins Mike Salerno and John Lawrence, the team never game up. Under the most adverse conditions, the Crusaders hung in there, playing, if for nothing else, but pride. This was their key to victory. The 1976 Team will be is one remembered not only becuase of their winning record but becuase it proved that the Crusaders are truly a team with spirit.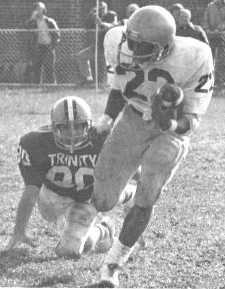 In 1977, Tyrone Williams ran for over 1,000 yards in helmet and pads and was the South Central League Offensive Player of the Year. The Crusaders, lead by captians Kelly Kulina and Mark Melnyk, completed their 1978 season with a disappointing overall log of 4-7. They appeared brilliant against strong opposition but seemed to play ordinary games against weaker opposition.

"They gave all they had" is the best way to put into words the 1979 Crusader Varsity Football team. Through their exciting victories over Steel-High(28-10) and C. D. East(8-0), all their talent, togetherness, skill, and spirit shone through. It was evident that what they had to give made the 1979 season one of the finest in years with a record of 8-3. Coached by Bruce Evans and led by captains Rob Kuntz(later played at Colgate) and Carmen Ametrano, the team developed its athletic skill to astonishing heights. The entire team deserves recognition and praise: the linemen who found joy through pain; the players who maintained a swift backfield and performed the receiving chores; the defensive players who made our goal so hard to get at; and, of course, the linebackers and those defensive backs who patrolled the depths. The 1979 team is to be congratulated on a great season and a valiant effort.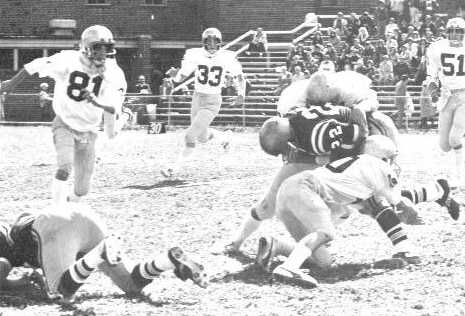 Following the retirement of head football coach Tony Cernugel in 1966, Bishop McDevitt only posted 4 winning seasons in 14 years. But in 1981 Tim Rimpfel (a McDevitt alumnus) took over. After solid 7-4 and 5-5-1 marks his first two years, Rimpfel guided the Crusaders to a 10-2-1 record, a Mid-Penn I title and a spot in the District 3 AAA finals. The ten wins was a school record to that point. The Crusaders were led by Mike Breski, who won the Mid-Penn Defensive Player of the Year award, and Keith Pinkney (most valuable back) and Kevin Curley (most valuable lineman on offense).
After dipping to 5-5 in 1984 Tim Rimpfel's 1985 team took center stage. Very few high school teams, in any sport, dominated the way the 1985 McDevitt football team did. Coach Rimpfel's "Dream Team" smashed every school record one could imagine to produce one of the best teams ever at McDevitt, and one of the finest in Central Pennsylvania history.
Collegiate coaches, including ex-Pitt head coach and ex-Notre Dame assistant Foge Fazio, called the '85 Crusader backfield the best they had ever seen at the high school level. Versatile quarterback Tim Madden completed 63 percent of his passes for 1,017 yards and 20 touchdowns, while throwing just one interception all season. Tailback Jimmy Bryant rushed for 1,375 yards and scored 19 touchdowns while averaging 8.7 yards per carry. Fullback Sean Barowski also cracked the 1,000 yard barrier, averaging 7 yards per carry and bulling his way to 21 touchdowns.
The Senior trio was devastating enough, then blend in slick junior Ricky Watters, who returned two kickoffs and four punts for touchdowns, scored 15 TD's all together, and rushed for 539 more yards at close to seven yards per carry. They were the flash in an offense that scored 478 points, shattering the old school mark of 263. Racking up 4,448 total yards (381/game) and nearly 40 points per game. McDevitt went 11-1 and won the District 3 AAA Championship. The Crusaders waxed Cumberland Valley 49-14 to win Mid-Penn Division I, then crushed Dover 49-13 and shellacked Conestoga Valley 35-7 to claim the District crown.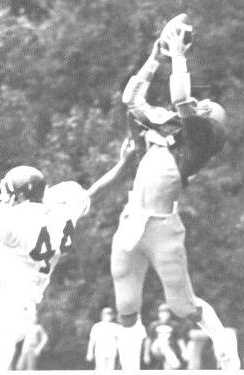 It wasn't all offense, though, as McDevitt's War Eagles roamed on defense as well, at one point going 12 straight quarters without allowing a single point. Barowski made 86 tackles from his linebacker spot to lead the team. Defensive linemen Mike Howanitz and Heath Enswiler both were among the leaders, with 73 and 70 tackles respectively. Kicker Frank Simonic smashed a 67-year old District 3 record by kicking 53 extra points.
The Mid-Penn I's All League Team was just draped with McDevitt players. Barowski earned first team honors at both running back and line backer, as well as second team punter. Bryant joined Barowski in the first team backfield, while Watters earned second team honors as offensive and first team as a defensive back and return specialist. Madden joined Watters in the first team secondary after a great season at strong safety. Tackle Bill Yahn was named to the first team on the offensive and defensive line, joined by center Kevin Keane on the first team offense.
Mike Perloski made second team All-League at both tight end and defensive end and was a BIG 33 nominee, along with Yahn, Keane, Barowski, Bryant, and Madden. Bryant, Barowski, and Watters all went on to Division I schools, Bryant at Ohio State, Watters at Notre Dame, and Barowski at Penn State, before transferring to Syracuse. In addition, guard Jay Wrabel, also a stellar baseball player, earned a Division I baseball scholarship to St. Joseph's.
Although Ricky Watters may have been overshadowed in his junior year, he more than made up for it the next. Despite having defenses keying on him. Ricky rushed for 1,578 yards to lead the Harrisburg area in rushing. Among his numerous awards, Watters was named to Bally's, Addidas, USA Today and Parade All-American teams as well as just about every other local award he was eligible for.
In 1987, Rimpfel's last year as coach, Bishop McDevitt won its second district title in three years. Led by a monster offensive line and 1,000 yard rusher Shain DeVan, the Crusaders rolled to an 11-2 record to match the 1985 team's win total. After getting away from the wing-T and running out of the I often with Rick in 1986, this team was more like a Rimpfel team with a very balanced attack. Aside from DeVan, Frank Nemshick made second-team Mid-Penn on offense at fullback and Jim Bruno had a solid year at quarterback, throwing often to his tight end, Edgar Cohen and flanker Tom Santoni. As well as DeVan and Nemshick, two offensive lineman, Dan Maass and Steve Edgett made 1st team on offense. This offense rang up 375 points on the season, second only to the 1985 juggernaut.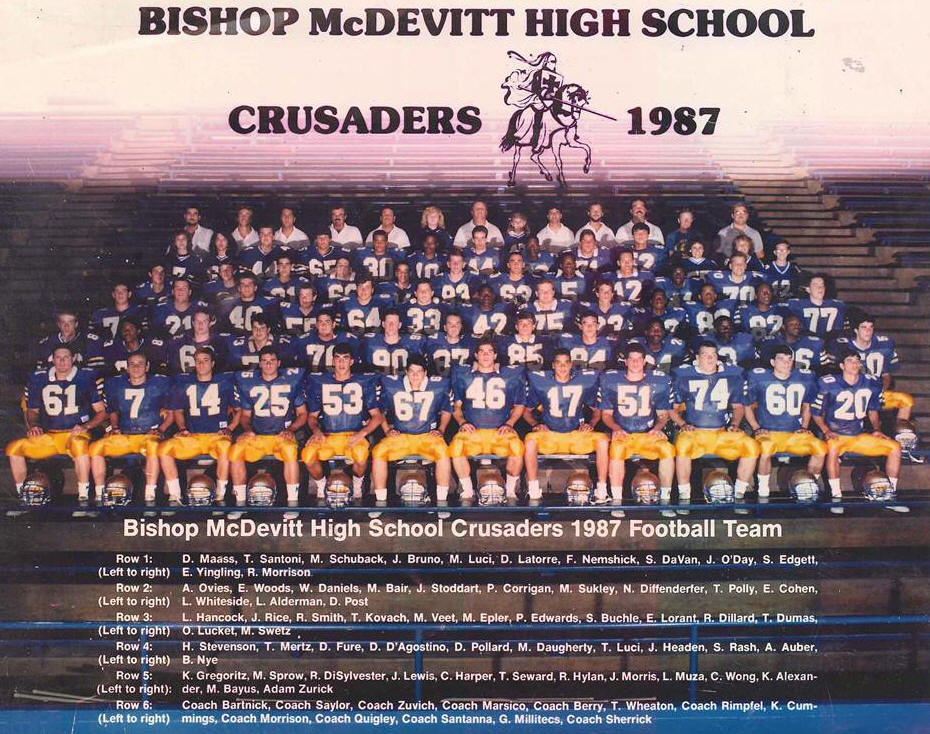 Not to be outdone, the defense only surrendered 120 points. Eric Yingling at linebacker (1st team Mid-Penn) and Lance Whiteside (1st team as defensive back) led the War Eagles, with Dan Maass, Steve Edgett, and Frank Nemshick making second team. The 1987 team started out 8-0 but lost a chance at the Mid-Penn title when they fell to Cedar Cliff 17-12. In District play, the Crusaders survived a tough 21-12 win over Ephrata before crushing Elizabethtown 49-12 in a rain soaked game at Hershey Stadium. The 80's were arguably the best decade of McDevitt football with the team's posting an overall record of 70-41-3 for a .614 winning percentage.
After McDevitt tremendous football success of the 80's faded for a few seasons, Four Chapman burst on the scene to inject knew life into McDevitt football. With an enthusiastic and spirited coaching style, and his hi-tech no huddle offense, Chapman resurrected the proud program narrowly missing the playoffs in 1992.