The Experience Continues...
Submitted by a former player following the 1995 season
As this historic season began, it did not start with our picture shoot at Indiantown Gap or with our first official practice. As far as I am concerned it began on the bus ride home after we lost to the Cocalico Eagles in the 1994 Playoffs.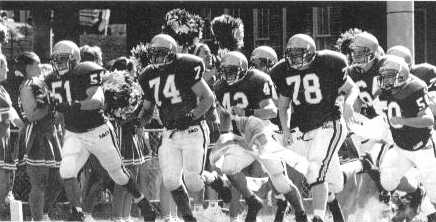 After spending tremendous amounts of time in the extreme heat we were ready to play. Not too many people in the public could imagine what we would later accomplish. We could not wait to get the season under way! Now that this is over I still look back at the old, dusty McDevitt Field and I wonder to myself sometimes if we actually won THE State Championship (then I look down at my ring and I know that we did).
Many, many people never really got to see exactly what went behind our title of McDevitt football. The team masses we had over the season is one of those things that I will never forget. Deacon would get you so emotional that it would almost bring tears to my eyes after every mass. Another thing that people don't know about is when we go down to the weight room before every game. In the damp, dark basement of Bishop McDevitt our emotions could easily be seen through our silence. This is the same place where we gave up our blood, sweat, and tears throughout the summer. Coach Fei and Chapman let us know what was at stake. They would also give us truly inspirational stories that would get us pumped up. Our Lady Queen of Victory...Pray for us!!! is the last thing we would do together before running out before the home crowds.
There will be many memories, some of which I cannot even try to put down on paper. Just looking into everyone's eyes during the Cumberland Valley and Harrisburg games showed that everyone was giving it everything they had for the team. All our tanks were on "E.' We did get our revenge for the District Title and we even said 'careful little birdie.' And of course-/%*?$@e%&?# BLUE and GOLD-Coach Gaffney. But some things that ! will not miss are the summer conditioning, Coach Bull's rope, 40 and turns, and Pur's bubble gum all over the locker room floor.
Now and especially in the future, I will be proud to tell people about our season. We had the best team in Pennsylvania of all time as far as I am concerned. We had the most explosive offense and a suffocating defense. Yes, we were the first undefeated Championship team at McDevitt but hopefully we are only the first in line of many more to come.To the family, friends, fans and Crusaderettes: THANK YOU! To all of my football family:
I LOVE YOU FELLAS AND NEVER FORGET WHAT WE ACCOMPLISHED!
Middletown: Dust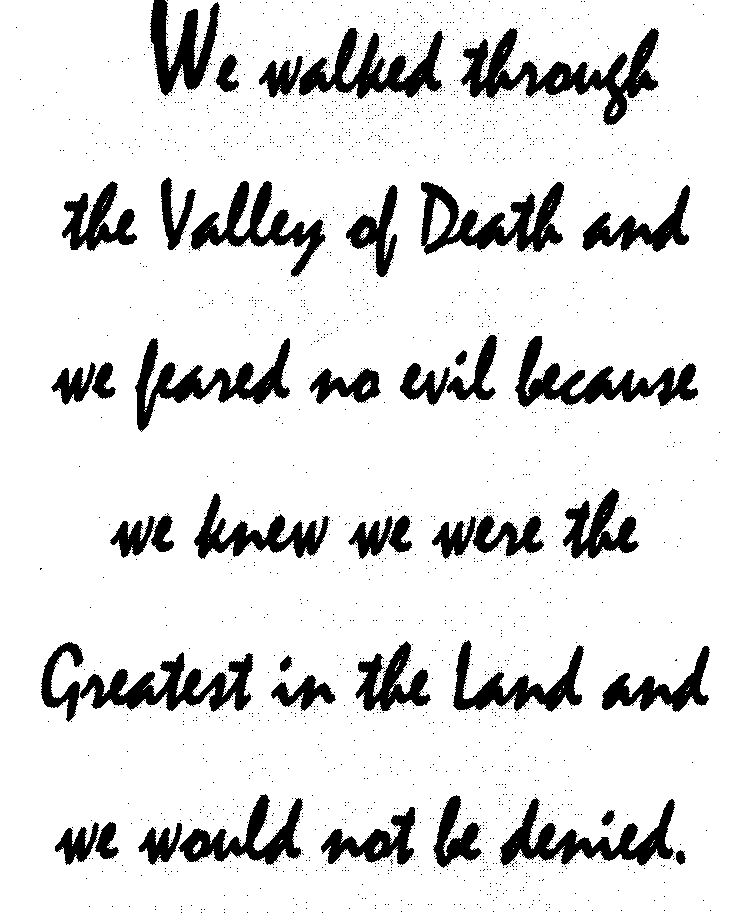 CV: Greatest win
Central Dauphin: Their day but our night
Academy Park: 5 TDs
Red Land: Defense
Chambersburg: Long drive
Harrisburg: We were ready to rumble
Steel High: Another win
Carlisle: Emotional last home game
Cedar Cliff.' Mid-Penn Div. I
Trinity: The Bishop loved this one
Cocalico: Revenge
Line Mountain: Put up or shut up
Lansdale Catholic: No spaghetti for me
Burrell: Should have stayed in Pittsburgh-Buck!