The McDevitt Football Experience
Submitted by a former player following the 1985 Season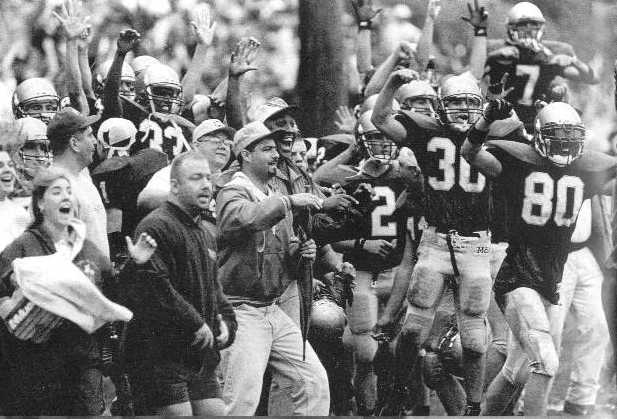 The car turned itself into the highway, already aware of its destination. Harrisburg, PA, HOME.
This ride seemed quicker, yet I noticed more, especially the grandeur and power of the Twin Towers as they reach out to the heavens. I turned into the driveway and since school was out, I ran through the goal post and onto the field. Crusader land, where boys learn to become men.
It seems like a long time since my first high school game, Carlisle - 6, McDevitt - 0. There was mud everywhere. The memories are so clear I can taste them. I guess that's what keeps bringing me back here. The memories are too clear to be left in the past and the pride I feel lives with me in the present.
The War Eagle still soars, but for a different generation. Erick, Rick, Jay, Tim, Jimmy, Sean, all of us, have moved on...sure, people may recognize us, but they don't know the stories, the jokes, and the never ending conditioning.
We all experience some glory in high school. I was fortunate to be able to experience mine with proud men who simply refused to lose.
I ran up the hill and stood at the top of Reservoir Park, overlooking not a high school, but a life of pride and discipline. Here we shared our triumphs, our defeats, we fought for each other and sometimes against one another. Still we grew big and strong together.
My last home game was a 14-7 loss to Cumberland Valley. The emotions I felt then, my last game in the Blue and Gold, I feel now. I could feel a certain power in the air. Indian Runs, Rainbows, food fights, and of course Pride and Cadence. It took so long for us to come together. We had been through so much. We pushed each other. We pushed hard. I want to once again tell them thanks and let them know that they were loved. I'd die for any of them.
I am proud to say we all went on to do things we enjoy. Whether I'm remembered or not isn't of concern, as long as the Pride of the Crusaders lives on from Bubba, Kyle, Mose, and Tom to Jaybird, Madden, B & B, then the Magnificent 7, Frank, Yingling, Epie, even Bobby Butler. To every man who ran up those steps intent on winning for the Blue and Gold I'd give my life.
We are War Eagles,
Proud and true,
WE will do our yell for you,
Waaarrr Eagles!

I ran to midfield and knelt in thankful prayer with the memories of the past, "Our Lady, Queen of Victory...PRAY FOR US!" And as I reflected on this glorious past, I could hear Deacon starting, "My beloved Crusaders..."